Teams change, management changes, but what doesn't seem to improve is Delhi Daredevils' performance each year of the Indian Premier League. This year too it's the same old story for Delhi, where they have consistently failed to win matches despite putting some stellar performances. After 11 matches, Delhi find themselves languishing at the bottom of the points table with just three wins in their kitty.
The biggest reason for that could be their batting, especially the opening slot. In this season Delhi has tried many different opening combinations and none of them have reaped great results for the team. DD's opening pairs haven't contributed much, with only two 30+ partnerships in 11 matches. In fact, both these stands have been scored by two different pairs.

Among the five DD openers this season, Prithvi Shaw is the leading run-getter with 214 runs and is only among two DD openers to score more than 100 runs. The other opener, Jason Roy has scored 108 runs.

What is interesting is that Shaw has contributed to 43.76% of the total runs scored by DD openers this season. He also has the best strike rate among other DD openers (163.36). Not only that, Shaw is also DD's lone opener with multiple fifties this season — 2 fifties.
Here is a look at runs scored by openers in the IPL for their respective teams this season: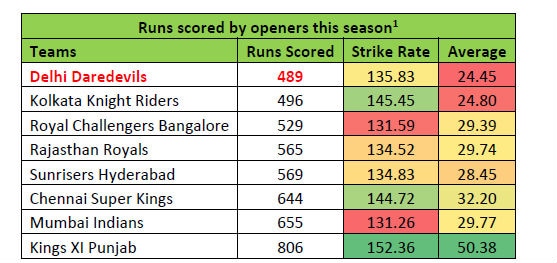 With 489 runs in 11 matches, DD openers have scored the lowest in the IPL this season. Their average of 24.45 is also the lowest in the IPL this season. They have scored their runs at a strike rate of 135.83.
Though Delhi is out of the race to make it to the last-4, but they would be looking to solve their opening order woes and churn out a performance of substance when they take on Royal challengers Bangalore on Saturday.
PL 2018 POINTS TABLE
| Team | Mat | Won | Lost | Tied | NR | Pts | NRR |
| --- | --- | --- | --- | --- | --- | --- | --- |
| SRH | 11 | 9 | 2 | 0 | 0 | 18 | +0.473 |
| CSK | 11 | 7 | 4 | 0 | 0 | 14 | +0.370 |
| KXIP | 10 | 6 | 4 | 0 | 0 | 12 | +0.097 |
| MI | 11 | 5 | 6 | 0 | 0 | 8 | +0.529 |
| KKR | 11 | 5 | 6 | 0 | 0 | 10 | -0.359 |
| RR | 11 | 5 | 6 | 0 | 0 | 10 | -0.484 |
| RCB | 10 | 3 | 7 | 0 | 0 | 6 | -0.361 |
| DD | 11 | 3 | 8 | 0 | 0 | 6 | -0.447 |